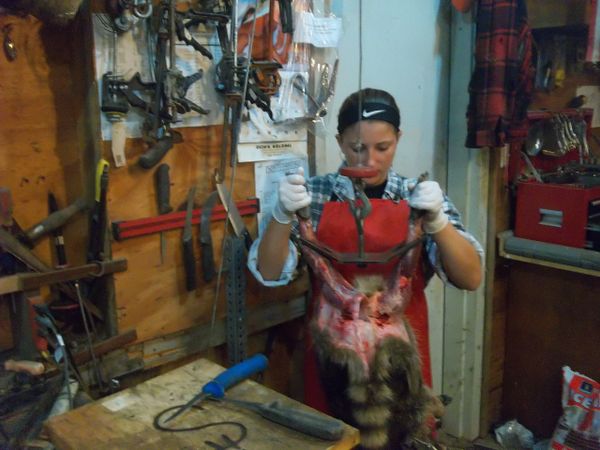 Speed Gambrel
*Just slide back legs into slot to load
*Lift one back leg out and let the other fall to unload
Often I prep our coons on the bench by opening them up and stripping the tail. Then, if I'm lucky, one of the kids will finish the rest of the skinning. I have a hard time keeping up with them and the RTS SPEED GAMBREL. They load the gambrel with a started coon in seconds.
When done skinning, they just lift one hind leg out of the gambrel with their right hand, let the other leg fall out of the gambrel while lowering it with the foot switch. Then they give the hide a snap with their left hand and toss it on the table on the way to the sled with the carcass. It looks like one motion when they get rolling!
With traditional gambrels, when the hind tendon would accidently get cut it would slow everything down. The hook style gambrel couldn't be used without a tendon. Fumbling with the "chain dog collar type loop" gambrel with greasy gloves also took time and patience.
The RTS SPEED GAMBREL has definitely sped things up in our fur shop!
You can also find this product at these retailers listed below...If they are highlighted in blue, you can click directly to this product on their site
Snare Shop
5-H Trading Post: Call (507) 530-1558
Southeastern Outdoor Supply: Call (276) 638-4698
Alaska Range Trapping Supply: Call (907) 376-5873
O'Gorman: Call (406) 436-2234
Fur Takers Lures & Supplies : Call (724) 445-7976
Midwest Trapping & Hunting SupplyMidwest Trapping & Hunting Supply
Grandpa's Trading Post: Call (239) 994-7772
One Hand Setters: Call (802) 681-8277
Big Horn Fur Company: Call (307) 272-3963
Crandal's Farmers Fur House: Call (701) 427-5526