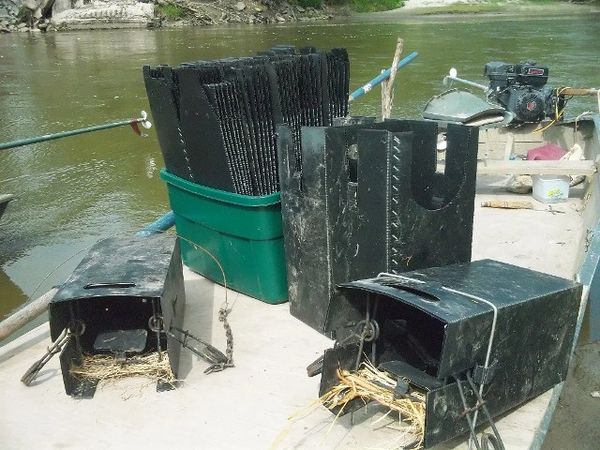 Collapse A Cubby
The Collapse A Cubby was invented simply out of necessity.  The water was getting very shallow due to drought.  The river could no longer be traveled with my wide 18' boat so I scaled down to a little narrow 14 footer with a 6.5 hp long tail motor.  My smaller boat could navigate the river fine but could not carry very many of my wooden body grip cubby's due to their bulk and weight.  I needed a cubby that was lightweight, collapsible, tough and of course, effective.  Plastic buckets were loud, did not hold up well in The sun or the cold, and not generally deep enough to avoid "the reach" of larger raccoons.  After much tweaking and designing the RTS Collapse A Cubby was born.
The tough corrugated coroplast material holds up well in the sun and cold.  It is also quiet to handle, floats and can be hosed out and stored flat after the season or in between set locations.
At 18" deep it avoids the reach of even the largest raccoon and keeps bait out of the sight of passing birds.  The removable "u" shape cut out on the floor of the cubby keeps the critters feet on solid ground while entering the kill zone resulting in fewer refusals.  This "U" perforation is where the two optional body grip trigger pans are located.
At just under 8"x8" the opening is perfect for 160 and smaller size body grip traps with trigger wires or pans.  Some have squeezed certain brands of 220's in the Collapse A Cubby but it was designed for and we recommend the 160 and smaller size traps. The Collapse A Cubby will catch Raccoon, mink, marten, fisher, skunks, squirrels and anything else you use a 160 or smaller type trap for.
The river is full of water again but I still use my Collapse A Cubbys.  No longer out of necessity however, but simply out of convenience.  I can get 30+ Collapse A Cubbys in a small plastic tote.  A dozen or more in a trap basket and still have room for other related equipment.  Several dozen on my four wheeler, snowmobile or sleigh...etc...etc....etc. I am sure you can think of many places and situations the Collapse A Cubby will be useful on your line as well.
The cubby is sold in cartons of 6.